Don't Let Out-Of-Date WordPress Plugins Put Your Business at Risk
If you have a WordPress website, keeping your plugins up to date is essential. Out-of-date plugins can make your site vulnerable to security risks and attacks.
In this blog post, we'll explain why out-of-date plugins are a problem and what you can do to protect your website.
WordPress Plugins are pieces of software that extend the functionality of WordPress. Third-party developers develop them, and they are freely available for anyone to use. Thousands of plugins are available, and they can be used to add almost any type of functionality to a WordPress site.
While plugins can add extra features to your website, they can also create security vulnerabilities. That's because as WordPress evolves, so do the security threats that target it. When a new threat emerges, WordPress releases an update that addresses the issue. However, these updates only work if applied to all WordPress ecosystem aspects, including plugins.
In some cases, outdated plugins can be exploited to access the back end of a website where sensitive information is stored. In other cases, attackers can use outdated plugins to inject malicious code into a website, which can be used to redirect visitors to another site or display unwanted advertisements.
To protect your website from these types of threats, it's essential to keep all aspects of WordPress up to date, including plugins, themes, and core files.
Unfortunately, some plugin developers don't keep their plugins up to date with the latest WordPress security updates. This leaves websites using those plugins open to attack. If the developer isn't updating the plugin, you may need to find an alternative.
An excellent place to start is the repository of WordPress plugins.  It's important to note that just because you find a plugin here doesn't mean it's recommended or kept up to date.
You can check the listing for:
●     The last update
●     If it's been tested with the latest version of WordPress
●     How many users it has
●     How well the developer responds to requests for support.
Ensure the plugins and theme you are using on your site are regularly updated by the developer; secondly, ensure that as soon as the plugin developer introduces a new update, you implement that in your website.
It is possible to set the WordPress core to update automatically. Still, if you don't check the functionality and update your theme and plugins simultaneously, your site could stop working or be vulnerable.
Updating Your Own WordPress Theme and Plugins
Your WordPress dashboard will show you which plugins are out of date and let you update.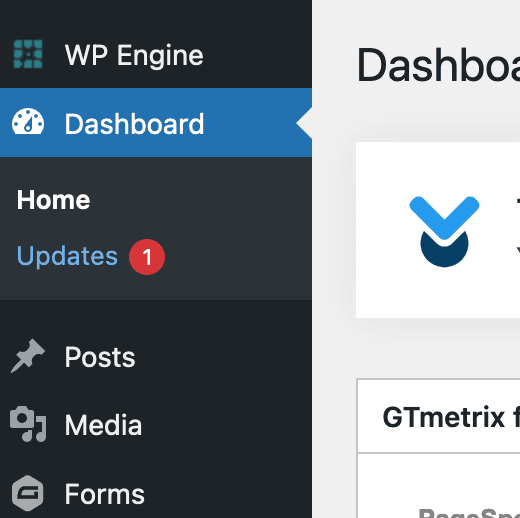 It's critical you back up your site BEFORE you carry out updates.  That way if your site does 'break' you can restore it to the last backup to investigate and repair.
Conclusion:
Keeping your WordPress website up-to-date is important for security reasons. Outdated plugins can make your site vulnerable to attack. It's essential to regularly check your site for outdated software and carry out updates or find a suitable alternative as soon as possible, and only after you have backed up.