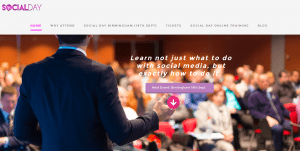 Lucy Hall is a Social Media Consultant and Social Media Coach who founded the amazing Social Day organisation for small businesses to help them get to grips with their social media.  She also supports Mums' who want to work from home whilst their children are young by helping other businesses to manage their social media.
Lucy needed to deliver training to her students using an online lesson platform, and she needed it to be set up quickly.  We've since found out that Lucy doesn't hang about with her projects and always delivers top notch stuff, be it to her social media trainees or her social media management clients. It's all about quality.
She needed a platform she could manage herself, that had a multitude of features to not only deliver her lessons to trainees, but which incorporates the systems, such as affiliate programmes, analytics, payment gateways and lead generation that would help her to grow this aspect of her business.
We provided her with a platform which ticked these boxes at great value to put her in control, looking fab and delivering beyond the expectations of her trainees.
Here's a comment from Lucy...
"The team at Stormchasers are incredibly helpful. They understand that your business online is important to your income and life and so make every effort to work with you quickly and efficiently and in my experience go above and beyond. Not only are they fast and professional but really friendly and easy to work with. I would recommend Mark, Sian and team to anyone especially within the creative industries looking to take their business online. Or any businesses wanting to grow their business through digital media".